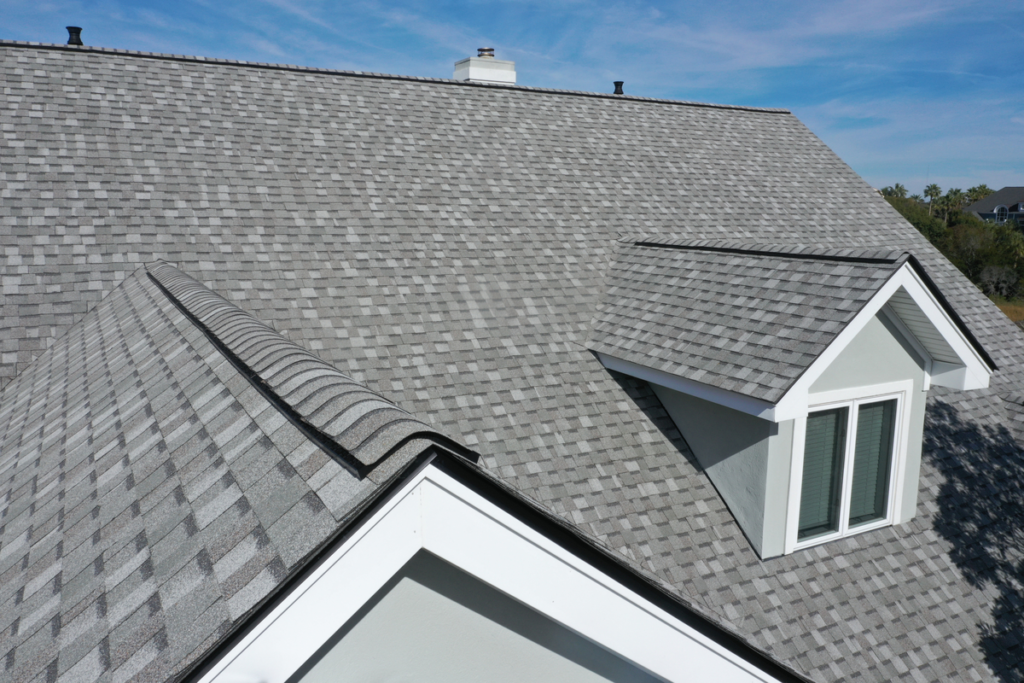 Your roof is the highest point and arguably the most crucial exterior component of your Gainesville, Florida, home, enduring various weather elements like heat, wind, and ravaging storms during its lifespan. So, it's obvious that your roofing system will wear down after a certain period, and you will be asking yourself: Should I repair or replace my roof?
As your roof starts to wear or show signs of damage, it's crucial to decide whether to repair or replace it. This blog post offers expert roofing advice to help you make an informed decision about factors to consider and the pros and cons of both options.
Worthmann Roofing offers top-notch roof repair in Gainesville with thorough expertise, knowledge, skills, and professionalism. We have earned the trust of our clients by providing them with the highest-quality roofing services.
If you need a new roof or repair, call us at (352) 472-3228 today for same-day estimates.
Roof Replacement vs. Repair: 6 Factors to Consider
While roofs are intended to withstand the elements and intense weather and last a long time, many factors influence how your roof ages. Knowing the age of your home's or business space's roof is critical in determining whether or not to replace it. Properly installed and maintained asphalt shingle roofs in Gainesville, Florida, last 20–30 years, while clay tiles and metal roofing materials take longer to wear down.
If you notice roof problems near the end of its lifespan, it's best to replace your roof. While repairs can be done, older roofs may cause more issues due to their age. If you're unsure about your roof's age, Worthmann Roofing's local contractor can provide insight.
Consider the condition of your roof before deciding on a Worthmann Roofing professional repair. If the damage is minor to moderate, only affects a small area, or covers 30% or less of the roof surface, a Worthmann Roofing professional repair is an excellent option. If extensive damage is present, it is usually wise and practical to just replace the entire roof. A comprehensive roof inspection is recommended. To assess the condition of your roof, contact Worthmann Roofing today.
The type of the roof damage
Assessing the extent of damage on your roof can help determine if repairs are necessary or if a new one is needed. Look for signs such as worn-out appearances, algae streaks, curled edges, missing granules, bald spots, cracks, dents, rust, and perforations.
If you find yourself needing to repair your roof regularly, it may be time to replace it. Frequent repairs may result in higher repair costs, and replacing the roof may be less expensive in the long run.
The cost of the project is also an important factor in any roofing decision. Repairing work on your roof may cost more than replacement, especially in difficult-to-access areas. If repairs exceed half the replacement cost or the roof is severely damaged, a one-time replacement is recommended for a more durable solution with better long-term value, a better warranty, and resistance to future damage.
Worthmann Roofing can help determine the cost of both jobs and determine the most cost-effective option in the long run. We offer inspection documentation and a detailed quote.
Roof materials are improving in energy efficiency year after year, offering more options and resulting in significant savings on energy expenses. Although replacing a roof may seem expensive initially, long-term energy savings can outweigh the initial investment.
Contact Worthmann Roofing for expert advice on energy-efficient roofing to consider when replacing your roof. Here are the quality roof brands we use at Worthmann Roofing:
Owens Corning: Owens Corning is our preferred shingle, recognized as one of 2023's Most Ethical Companies and a market leader in underlayment and component products.
CertainTeed: CertainTeed is a high-quality company with a valuable warranty program, offering full roof replacements for manufacturer issues.
Metal Roofs Depot: A Gainesville-based manufacturer and supplier of high-quality metal roofing materials that adapt to changing weather conditions.
Eagle Roofing Products: Eagle Roofing Products offers high-quality, durable, and environmentally friendly roofing solutions, including high and medium barrel tile profiles in various colors and textures.
Insurance claims and issues
Insurance coverage for roof repairs and replacements varies based on cause, extent, roof size, and geographical location. It only covers damage from natural disasters or accidents, not neglect or wear and tear. At Worthmann Roofing we would love to help you with this process. We guide you through the inspection, insurance claim processes, and assistance in selecting the ideal financing option for your roof.
Pros And Cons of Roof Repair Vs Replacement
Pros of Roof Repair
Roof repairs are an affordable option most of the time
Extend the lifespan of your roof
Increase home value
Enhance safety by securing the roof
Roof repairs are not often long or time-consuming Cons of Roof Repair
Roof repairs are a temporary solution
An old roof requires multiple repairs, which can lead to higher costs
Roof repairs can hide underlying issues if not done properly
Roof repairs can be inconvenient, depending on the extent of the repairs Pros of Roof Replacement
A new roof is a solution that lasts longer than regular maintenance and repairs
Saves money in the long run
Significantly enhances the aesthetic and improves the value of your home
Creating a fully insulated, energy-efficient home reduces energy bills
New roofs often come with a warranty Cons of Roof Replacement
Replacing and renovating a roof can be costly
A longer installation process
Can reveal underlying issues that may need to be addressed before installation
WORTHMANN'S ROOF REPLACEMENT PROCESS IN GAINSVILLE, FL
Step 1:
Call us to schedule your free inspection.
Step 2:
One of our expert roofers in Gainesville FL will meet with you to inspect your roof.
Step 3:
We approve your desired roofing project.
Step 4:
We help you choose your ideal materials.
Step 5:
We keep you updated at every step of the process.
Step 6:
We prepare your roof deck and your home to install your new roof.
Step 7:
We start with our efficient installation process.
Step 8:
When we leave your house, it will be as spotless as the day we started.
GET IN TOUCH WITH THE LEADING ROOF REPLACEMENT EXPERTS
Every roof is unique, and deciding between a roof repair or replacement depends on the specific issue. To ensure the best choice, contact a reputable, certified contractor that specializes in roof repairs and roof replacements in Gainesville, FL.
For affordable and efficient residential and commercial roof repairs or full replacements in Gainesville and surrounding communities, contact Worthmann Roofing. Our skilled team has served thousands of home and business owners and can restore your roof to top condition quickly.
Our roofing team uses high-quality materials from top manufacturers like Owens Corning, CertainTeed, Metal Roofs Depot, and Eagle Roofing Products. We offer comprehensive warranties and flexible payment options. Call (352) 472-3228 for a free estimate.